St Helens Town Hall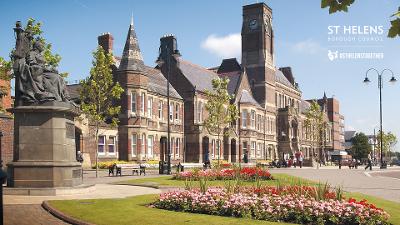 St Helens Town Hall was designed by Henry Summer of Liverpool, with building completed in 1876. It has a grand staircase entrance overlooked by a clock tower with steeple and includes stained glass windows on the main internal staircase, depicting St Helena holding a shield which bore the coat of arms of the town.
The town hall became a popular venue for speakers, events and concerts, with renowned conductor Sir Thomas Beecham making his debut performance there with the Halle Orchestra in 1899. In June 1913, a fire broke out at the town hall, destroying the clock tower steeple and assembly room and leading to a refurbishment.
Many royal visitors have graced the building with King George V and Queen Mary visiting in July 1913, King George VI and Queen Elizabeth in May 1938, and then Queen Elizabeth II in June 1977, when she inspected a guard of honour in Victoria Square.
The current town hall is, in fact, a replacement for the original structure, which was opened in 1839 and contained a magistrates' court, police cells and the town's first public library. In 1871, disaster stuck when a fire broke out, leaving the town hall badly damaged and leading civic leaders to decide to rebuild a new town hall on the same site.
Today the town hall is the civic heart of the borough and home to many events, including council meetings, weddings, and citizenship ceremonies.