Accessible playground equipment being rolled out to St Helens Borough parks
Accessible playground equipment begins rolling out to parks in St Helens, as the borough's first roundabout designed for children with special needs is officially unveiled.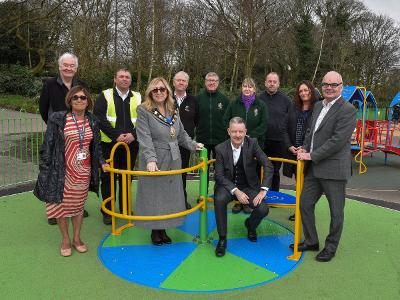 Article date: 22 March 2022
The new roundabout was unveiled in Taylor Park at a ceremony attended by Mayor of St Helens Borough, Cllr Sue Murphy and Moss Bank resident Paul Smailes, who launched a petition to install accessible play equipment last year.
In an emotional speech, Mr Smailes spoke about having to travel to parks out of the borough so that his son Luke, who is wheelchair-bound and has learning difficulties, could play and feel included with other children.
He also thanked Council Leader David Baines and the council's parks and area landscape managers for their support in getting the project across the finish line.
Taylor Park now boasts an inclusive Wicksteed swirl roundabout, with installation at Sherdley Park planned this week and plans to roll out similar equipment to more parks, including Rainhill Park and Mesnes Park later this year. Much of the equipment is being funded from Section 106 funds secured from local housing developments.
Foundations have also been laid for an accessible swing set in Taylor Park.
Open space at Tyrer Road has also recently seen a suite of new play equipment installed.
Mr Smailes said: "I'd like to thank everyone who signed the petition and also the councillors and the parks officers for getting the project completed. This is bringing joy to disabled children and adults, when they look into the playground and see others having fun, they know they can join in too."
Councillor Andy Bowden, St Helens Borough Council's Cabinet Member for Transport and Environment, said:
"Our parks and playgrounds should be accessible to all, no matter their ability. We have a wide programme of work to make our play areas inclusive where we can, so that families across the borough can enjoy them.
"And we were glad to involve passionate people like Mr Smailes and his family in the process throughout."